My not so Sweet Pea Saga
Posted on
This week I have been sowing my Sweet Peas, and as I have promised to share the misses as well as the highlights of my cut flower gardening journey, I'll explain to you my 'love, hate' relationship when it comes to growing this cottage garden favourite.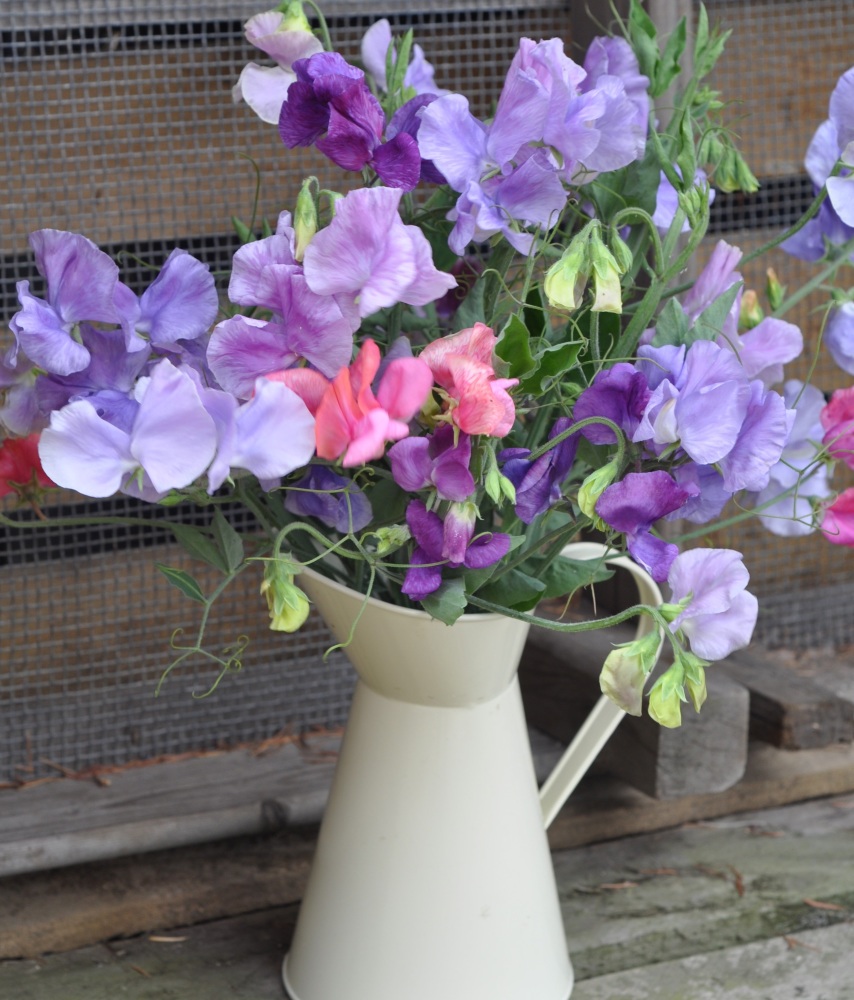 In 2019, my Sweet Peas stole the show, giving me a bumper crop. It was lovely to be able to share bunches with neighbours and they made a great gift when visiting friends and family. They are a fab cut flower as the more you cut the more they flower as well as having a gorgeous scent. 2020 however was a different story. The crop was puny, only yielding a few handfuls of flowers; my biggest disappointment of the garden last year. Hence this year, although I always had in mind to have a few in the cutting patch, my enthusiasm has been waning.
Thanks to my sister-in-law I've gained a little more excitement at the prospect of having another go. In a recent 'virtual night out' Zoom call, putting the world to rights over a glass of wine or two, we strayed onto the topic of the garden. (Look, I'm a forty something and that's as rock 'n' roll as I get now!)
Emma mentioned she was planning to start her Sweet Pea seeds as soon as she'd collected enough empty toilet rolls! Sweet Peas benefit from the long, narrow shape of these tubes as they encourage growth of long roots, acting as 'root trainers.' Another advantage is you can place them straight into the ground once the plants are ready, meaning they can be planted out without disturbing the roots. Great upcycling/reuse of cardboard too.
Advice is to plant out in mid Spring but after the risk of frost has passed. I wonder if this is where I went wrong last year, waiting too long to get them into the cutting patch. I may have been over cautious, so I plan to be braver this year and plant out earlier in May. (Note to self: I must keep a little dairy of notes to refer back to.)
I have some seeds left over from last year, which I've kept in the original packets, tucked away in a cool, dry cupboard so I'm going to use these up as well as adding a traditional mix.
---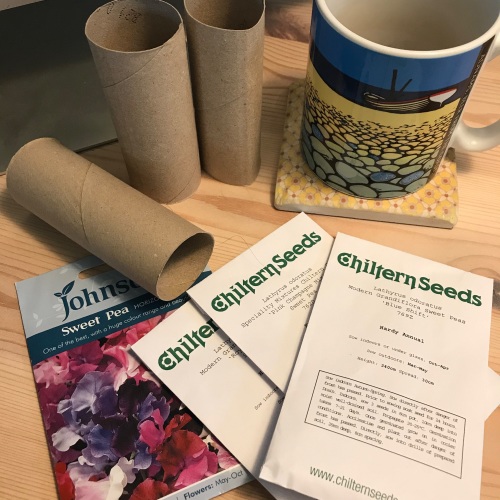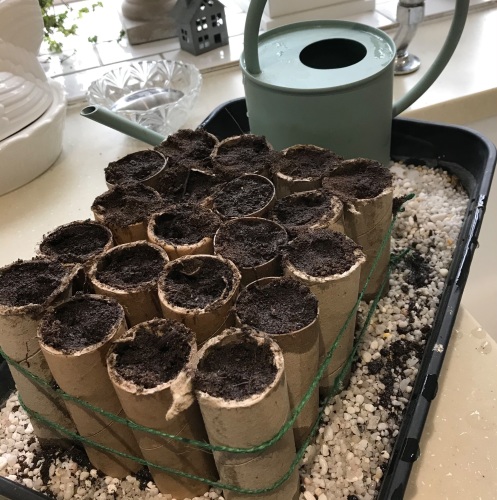 Varieties: Horizon Mixed (Johnsons); 'Royal Wedding' - A pure white flower (Chiltern Seeds);
Pink Champagne Mix (Chiltern Seeds); Blue Shift – A purple flowering variety (Chiltern Seeds)
---
I usuallly soak the seeds for 24 hours before sowing. This helps to start germination of the seeds quicker. Use just as small amount of water to cover the base of a tub, e.g. an empty margarine tub, and leave over night. (I have recently read another simple technique is to dampen paper towel to scatter the seeds on.) After 24 hours, I'll sow these into the tubes filled with fine seed compost.
Sarah Raven recommends keeping the seedlings cool to promote root growth rather than stem growth. (www.sarahraven.com) This is another tip I'm going to try. Maybe the windowsill in the spare room was too toasty last year?!
I'm have kept some seeds spare to try sowing directly into the beds too, which I'll do in April. It will be interesting to see which grow better, if it makes any difference at all. Also, staggering the sowing should give me a longer flowering period too. Fingers crossed!
---
Top tips:
Pinch out the tips to create bushy plants
Once the plants are established and begin to flower, feed with Tomato feed
Pick regularly once in flower to encourage more to grow
---
What has been your experience in growing these?
Are you planning to grow some for your Wedding day?
And, what's your nemesis plant in your own garden? I'd love to know more about your own battles and advice on how you've overcome them in the cutting patch!….