About Me
What I enjoy most about my career…
Floristry can be a challenging, but rewarding job too. I love seeing a whole event through from start to finish; from the first consultation to the delivery and set up on the day. You get to know your clients and feel their excitement as the day draws nearer.
Proud moments include one of my fab Bride's pictured with her flowers on the front of Your Berks, Bucks & Oxon Wedding in 2019 and an amazing wedding featured in Rock 'n' Roll Bride. For this wedding everyting was created on site in a formal Manor House garden. The vibe for their day was a festival meets Alice in Wonderland with circus performers! (Follow the link below to find out more.)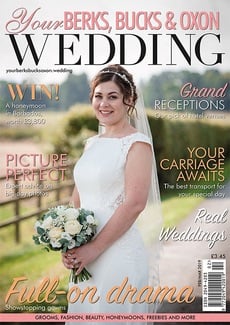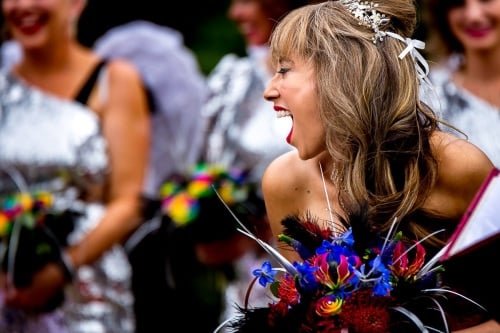 alice-in-wonderland-meets-festival-rave-wedding-with-glitter-sequins-and-two-red-wedding-dresses
How I got to where I am today…
I have worked in floristry for over fifteen years, learning my trade hands-on whilst also studying Floristry at college. My love of flowers and design hails from my childhood. My parents have always had a garden full of colour; Mum is the arty one who inspired me to get crafty! Originally I studied Industrial Design, but I soon realised that Floristry is where my heart really lies. I have now been a recommended florist for the stunning National Trust wedding venue Hartwell House for several years and more recently at The Bear Hotel, Woodstock as well as Magonlia Park Golf Club, for whom I now provide their weekly reception displays. I first dipped my toe in the water of Floristry at a fab evening class with an inspirational tutor at Bucks Adult Learning. Many years on, I now work for the same organisation, teaching the joy of arranging flowers.
Which flowers would make up my dream bouquet…
This depends on the time of year - in my opinion seasonal is always best! I'm attracted to something new or that I haven't used for a while. As we're now in the depth of Winter, I'm loving the rich variety of textures this season brings. The hedgerows on our daily dog walks are full of inspiration; bare branches, rosehips and berries as well as beautiful dried seedheads. There are such a contrast of colour palettes which work so well in Winter too. Rich reds and rusts create a waming effect and are evocative of the fruits and spices of a mug of mulled wine; equally, the cool shades of white, silver and pale blue create the air of a crisp, frosty morning. That's the great thing about floristry – the changing of the seasons brings a fresh variety of flowers, colours and textures.
This is one of my favourite designs from this year so far. Natalie wanted a wild, Summer bunch for her August wedding day, including a touch of golden yellow. I had a very happy morning amongst the bees and the butterflies selecting many of these blooms straight from the field especially for her perfect bouquet. My aim for this year was to start using locally grown where I can and I have been lucky to find a fab couple of growers just a stone's throw from home.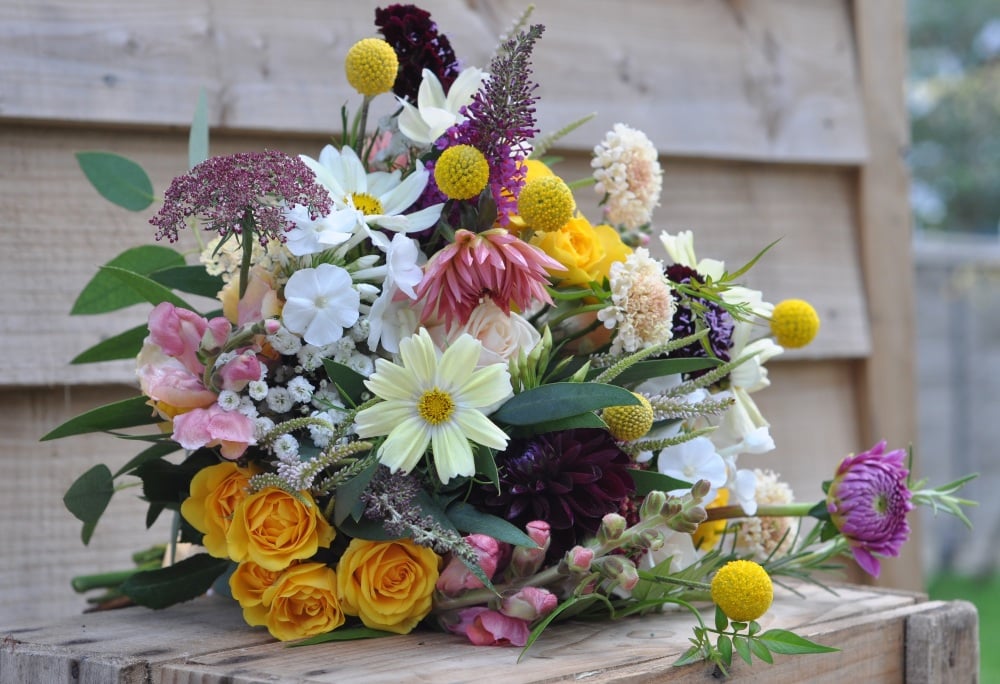 Follow me on Facebook and Instagram where you'll find regular posts on seasonal flower inspiration, floral recipes, how-tos and competitions.
Where I find inspiration for my floral designs…
Apart from scanning floristry journals and wedding magazines, I have an addiction to Pinterest. Its great for picking up ideas and current trends. You can quickly create moodboards of images as a reference for your client too. Otherwise, simply playing with combinations when I have a spare moment can be a productive way of coming up with surprising new ideas. To find interesting vases and containers I search local flea markets and charity or bric-a-brac shops. Often you'll find some really unusual treasures.
Why 'Gladys Doris Flowers'…
In loving memory of my Nan (Gladys) and Grandma (Doris.) Family legend has it that I was almost named after my grandparents, but it was a difficult choice; would it be Gladys Doris or Doris Gladys?! But more than that, for me their names conjure up feelings of nostalgia of happy times and simple pleasures. I work to echo this in my work with a natural, informal style celebrating the beauty of flowers.
(P.S. I had a lucky excape and my parents called me Katie!)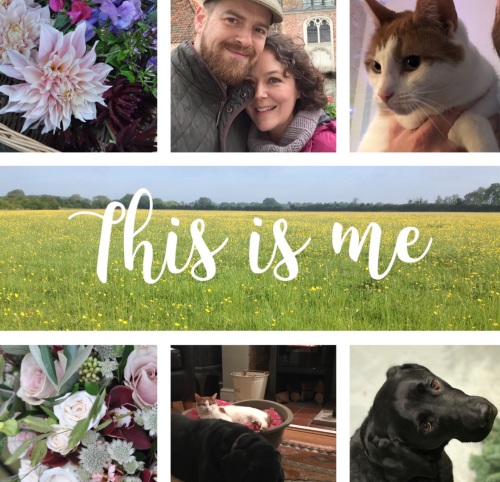 Contact me at Gladys Doris Flowers
if you would like to arrange your free consultation
tel: 07725643181 or email: [email protected]