About Me
What I enjoy most about my career…
Floristry can be a challenging, but rewarding job too. I love seeing a whole event through from start to finish; from the first consultation to the delivery and set up on the day. You get to know your clients and feel their excitement as the day draws nearer.
Proud moments for 2019 were to have one of my fab Bride's pictured with her flowers on the front of Your Berks, Bucks & Oxon Wedding and an amazing wedding featured in Rock 'n' Roll Bride.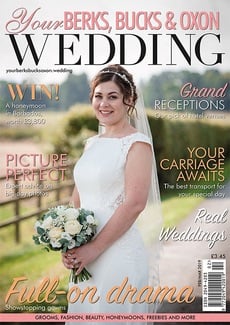 www.rocknrollbride.com/2019/04/alice-in-wonderland-meets-festival-rave-wedding-with-glitter-sequins-and-two-red-wedding-dresses
How I got to where I am today…
I have worked in florist shops forover ten years, learning my trade hands-on whilst also studying Floristry at college. My love of flowers and design hails from my childhood. My parents have always had a garden full of colour; Mum is the arty one who inspired me to get crafty! Originally I studied Industrial Design, but I soon realised that Floristry is where my heart really lies. I have now been a reccomended florist for the stunning National Trust wedding venue Hartwell House for several years and more recently at The Bear Hotel, Woodstock as well as Magonlia Park Golf Club, for whom I now provide their weekly reception displays.
Which flowers would make up my dream bouquet…
This depends on the time of year. I'm always attracted to something new or that I haven't used for a while. That's the great thing about floristry – the changing of the seasons brings a fresh variety of flowers, colours and textures. As we're now in the depth of Winter, I can't resist the seasonal foliage abd berries which are in abundance. The hedgerows are so inspiring at this time of year, full of surprising colour and textures. Beauitiful on a frosty winter's morning.
Where I find inspiration for my floral designs…
Apart from scanning floristry journals and wedding magazines, I have an addiction to Pinterest. Its great for picking up ideas and current trends. You can quickly create moodboards of images as a reference for your client too. Otherwise, simply playing with combinations when I have a spare moment can be a productive way of coming up with surprising new ideas.
Why 'Gladys Doris Flowers'…
In loving memory of my Nan (Gladys) and Grandma (Doris.) Family legend has it that I was almost named after my grandparents, but it was a difficult choice; would it be Gladys Doris or Doris Gladys?
Contact me at Gladys Doris Flowers
if you would like to arrange your free consultation
tel: 07725643181 or email: [email protected]