Looking for an alternative venue for your wedding day? Why not choose your favourite local pub?
Posted on
Natalie and Chris did exactly that.
Natalie and Chris were married earlier this month. When their original plans were thwarted by current restrictions they regrouped and kept calm. With no desire to postpone, they stream-lined their guest list and found a venue to suit; The Broad Leys, Aylesbury.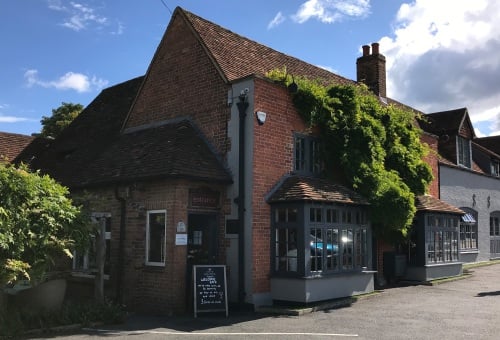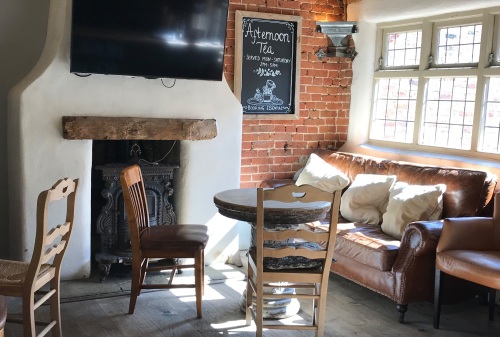 As a former Aylesbury resident, I was so excited to learn they had chosen this quirky location for their wedding breakfast. I hadn't dressed a wedding here before but having lived only a stone's throw away I knew it well. It had been a firm favourite for our Thursday night "date nights" and over the years we've had many delicious meals here. It was always our place of choice to bring family and friends to for a special evening out.
It's the eccentric personality of this pub/restaurant/hotel which I consider the biggest appeal for a memorable wedding. Where else can you celebrate in chic vintage style and have a selfie with a Gorilla?!
Step inside and you'll find all the charm of a traditional country pub. Cosy fireplaces and snug corners, wooden beams and old leather sofas. Stepping up into a private dining area you find a whole separate area of the restaurant, hidden away from other diners and perfect for an intimate Wedding Breakfast.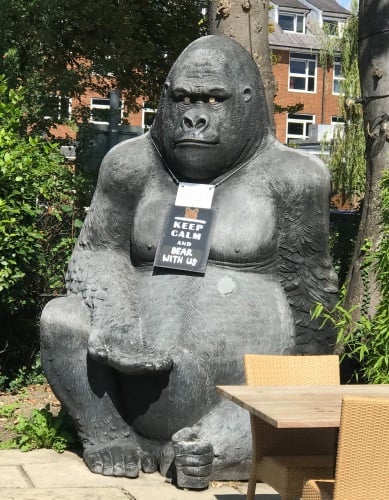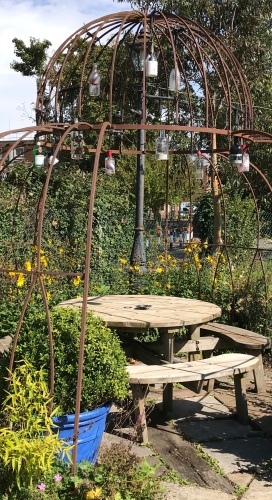 Step outside The Broad Leys and you're greeted with a beautiful garden full of antiquities. They have an outdoor bar, vintage props and pergolas and….a huge gorilla nestled in the undergrowth! He's probably not an obvious choice for the guest list, but quite a talking point and wouldn't he look magnificent with a floral feather boa or perhaps a tropical flower crown?!
---
Top Tips:
Natalie and her bridesmaids had tied posies of flowers in blues, silvers and whites for the ceremony.
On arrival at The Broad Leys, these were placed straight into vases and used to decorate the tables. This is a great way to make the most of your flowers. They can be admired throughout the day as well as be kept fresh allowing them to be taken home and enjoyed long after the day.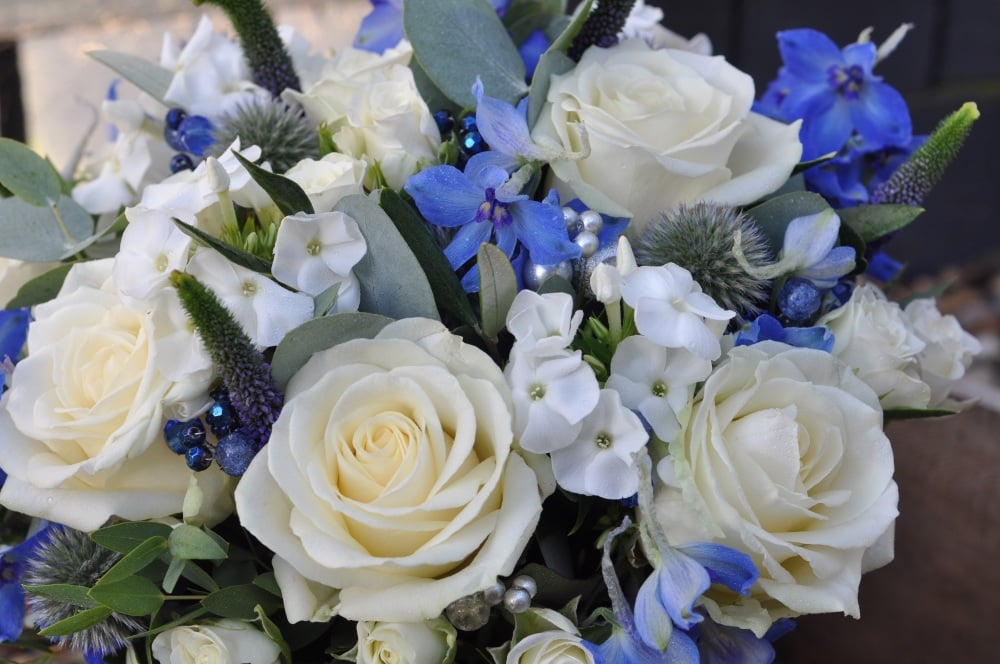 Also, two large arrangements which framed the ceremony at the church were collected by a guest and brought back to the venue to dress the marquee.
Give this responsibility to one of your trusted friends, with a good-sized car! Again, it's a great way to maximize the use of your flowers.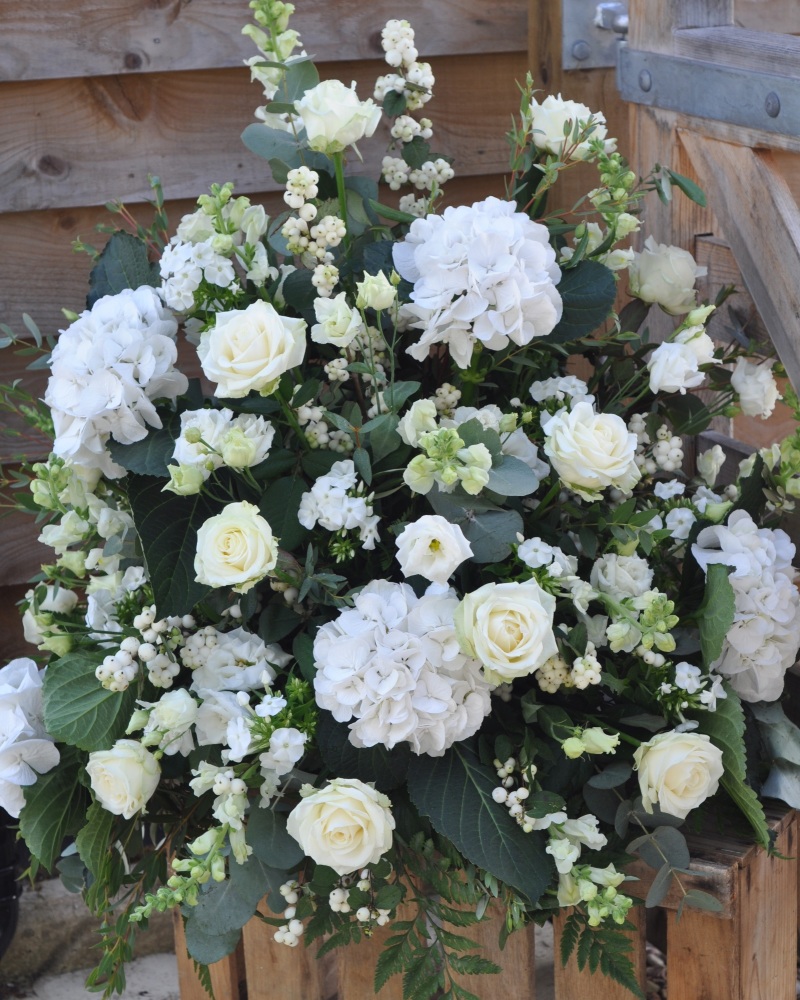 ---
After their wedding breakfast Natalie and Chris made use of the marque in the garden. This gave them a private area for their guests where they could relax for the rest of the day. The space feels the perfect size for parties of x30 and is dressed with vintage furniture and candelabras to match the rest of the venue.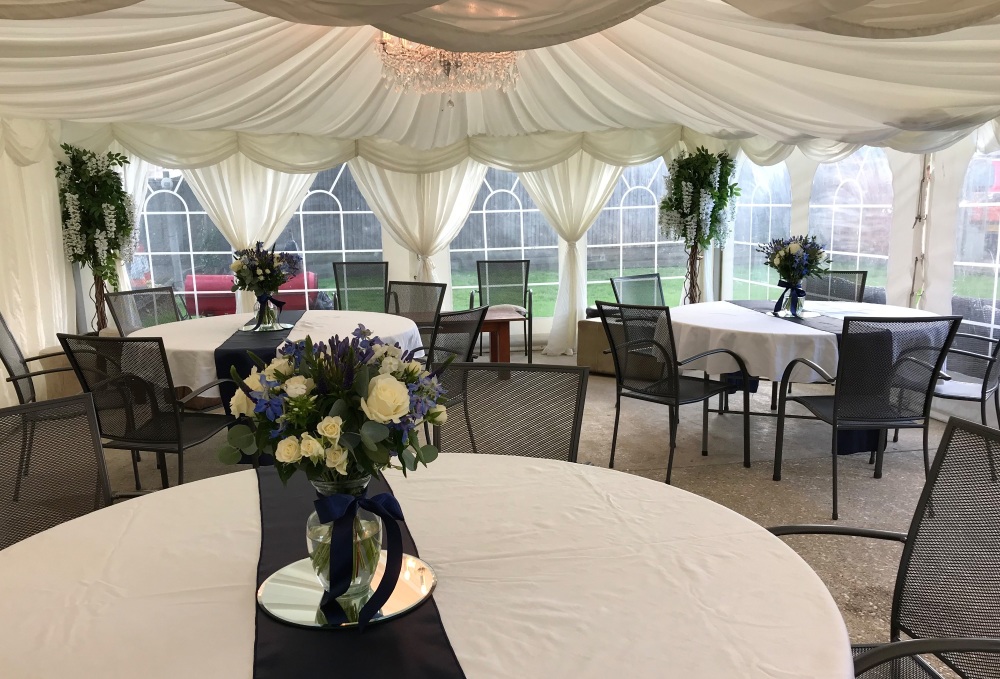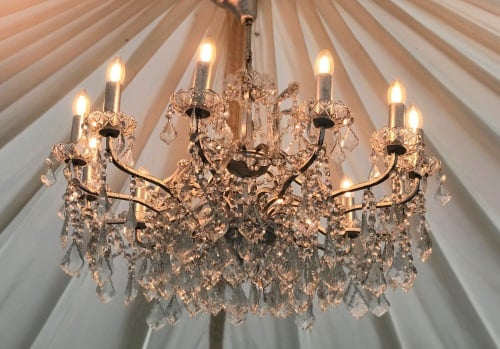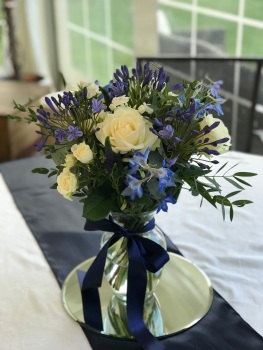 I was really excited to be part of Natalie and Chris's wedding, especially at this venue which holds so many happy and special memories for me. The morning of their wedding day felt so nostalgic, driving past old haunts, remembering happy days of our first home, when we were also newlyweds.
This couple's open mind and relaxed manner in such a stressful build up to their wedding day was inspirational. It has opened my eyes to how weddings can adapt and, in some ways, improve with a positive reaction and a little creativity as new lockdown rules evolve.
Although this was thrust upon them, I wonder if with hindsight, they feel their day was made all the more special. The limited numbers opened up a new opportunity to create a more intimate day at a venue close to their hearts, on the doorstep to their home. This is somewhere they have enjoyed many an evening with their loved ones and built a friendly rapport with the staff. It seems such an apt and personal way to celebrate their marriage.
Thanks to Elaine and Helen at The Broad Leys with their help on the day!
Has adapting your wedding day under Covid 19 resitrictions opened up new and surprising options? What wonderful venues have you found on your doorstep?