Start the search for your perfect wedding flowers
Posted on
You've found the most amazing Bridal bouquet on Pinterest, a few things for you to consider next ...
If you're recently engaged you're probably using this extra time we have at the mo to do some productive planning for your big day. Or maybe sadly your special day has been put on hold. I'm so sorry if this is the case – please keep positive, there are better times on the horizon. Perhaps this can also be a great opportunity; time to review your ideas and make some great tweaks and improvements.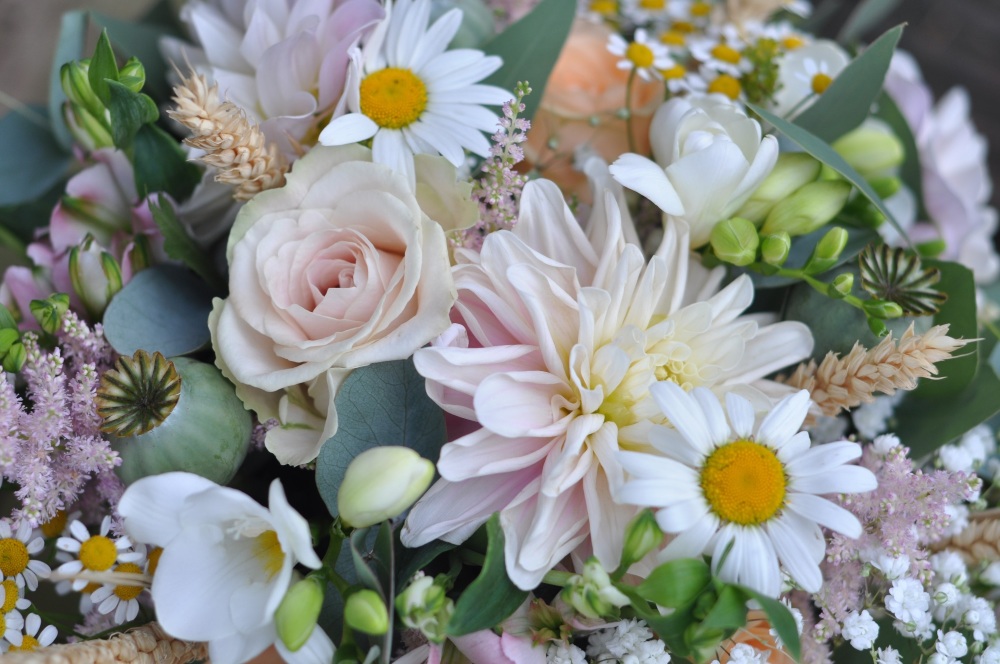 It can be difficult to know where to start with choosing the flowers, especially if you normally buy flowers on high days and holidays.
There are plenty of places to find inspiration with a huge number of gorgeous images on Pinterest – a rabbit hole for collecting ideas. This is a fast way of putting together a board which, although you thought you didn't have a clue what you wanted, suddenly you'll see a clear feel and style appearing. Along with colour swatches of fabrics, this is a fab start to take to your florist and a good discussion point for thrashing out ideas. (P.S. Don't forget to notice what you don't like and mention this too – just as handy for us Florists to know!)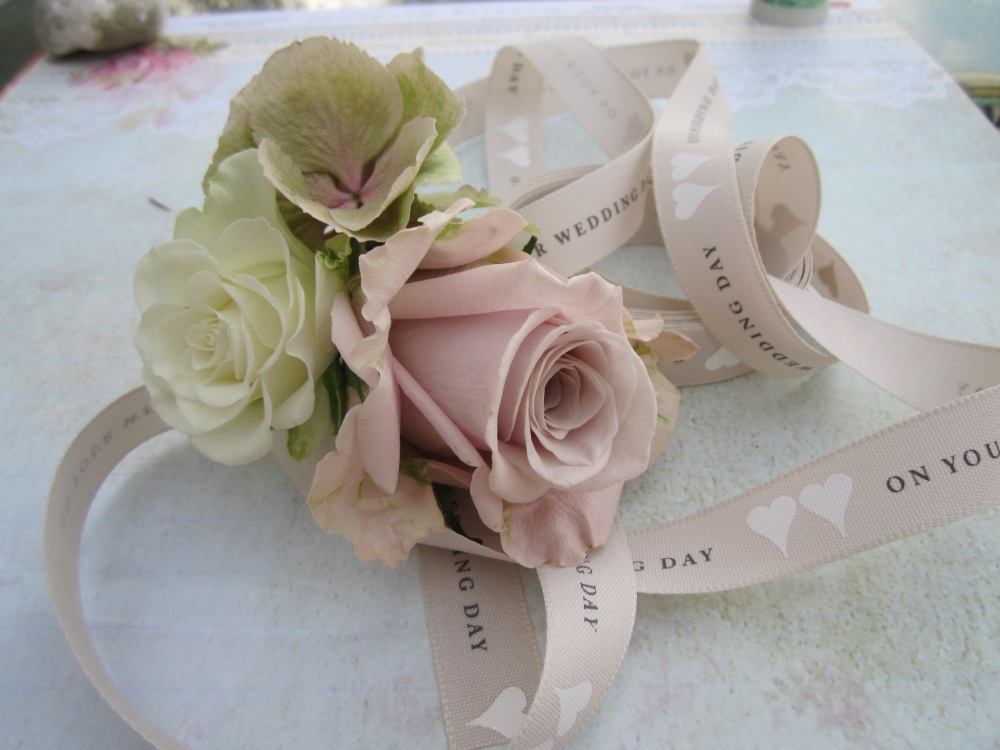 However, the glossy images on-line and in the plethora of bridal magazines can sometimes be misleading. They may make a stunning visual for an instant in a photo shoot but maybe not so practical for a full on, fun packed wedding day. Try to go with an open mind to your first wedding flower consultation – the florist can guide you in which flowers and fauna will have the best lasting power as well as create the style you're after and meet your budget expectations.
When choosing your florist, it goes without saying that you should love their style but your rapport with them is important too. They need to get a feel of your personality as a couple to be able to reflect this on the day.
With couples now taking almost two years to plan their wedding day, it makes sense to schedule in visits to prospective florists about a year before the date. This way you can see what flowers are available. Look for inspiration from the nature around you too.
Your wedding is in Spring? what's in flower, looking full and gorgeous then and what colours and textures do you notice? … lucky you if you have a Spring wedding with the gorgeous array of Tulips and Ranunculus. Lush! This Spring Bride's bouquet uses tulips, narcissi and viburnum in shades of yellow, white and green to reflect the positive, happy feel and expectations that this wonderful time of year brings.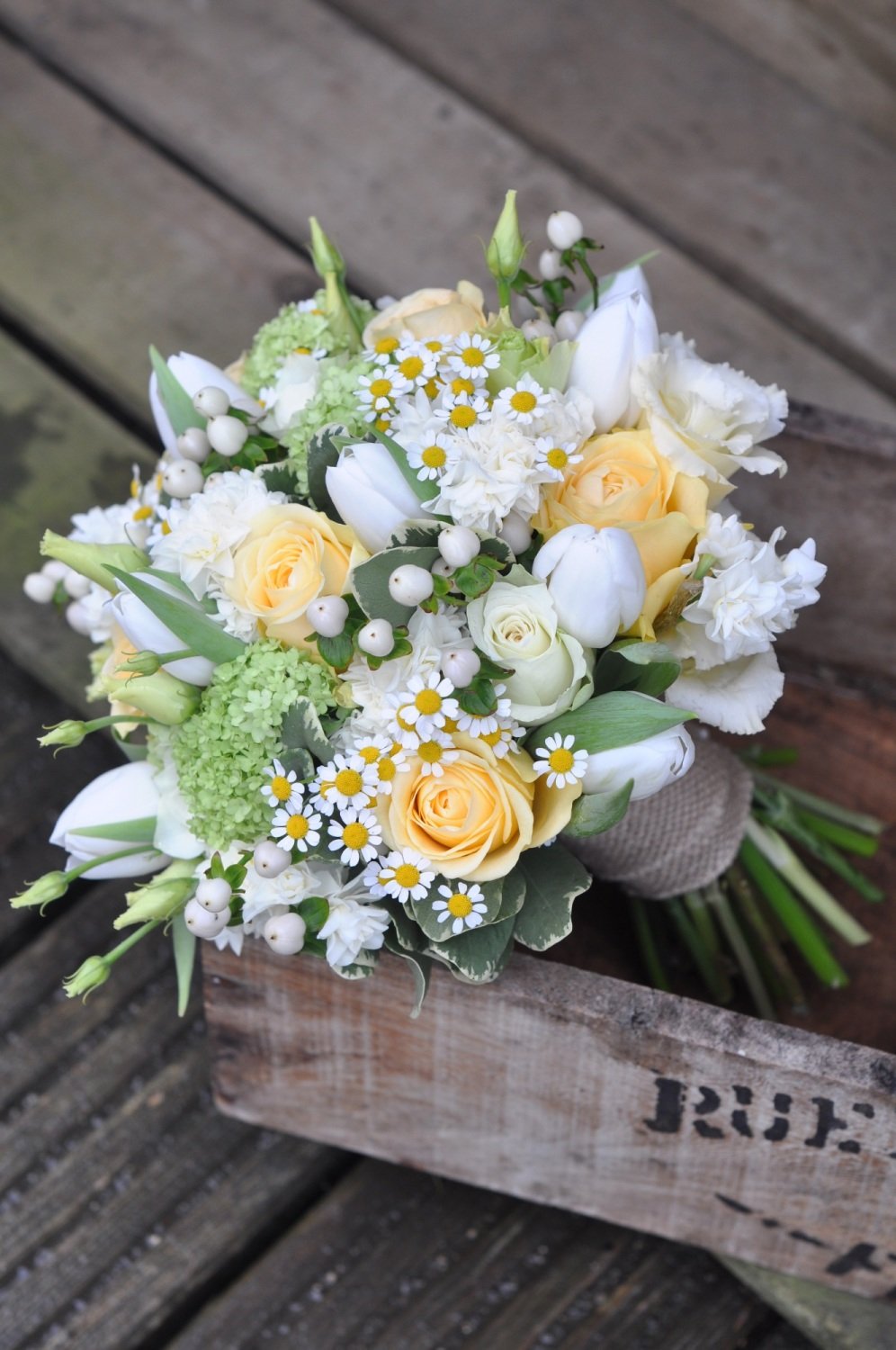 It's best to keep it seasonal when it comes to flowers. If you set your heart on having peonies for a Winter Wedding you may be disappointed – yes, it is probably just about possible… but think of the air miles! They will be forced to flower so they are often not looking at their peak and they'll be on the pricey side too. The additional labour and freight costs will all add to the price of your dream bouquet, so going seasonal will help make the most of your flower budget. You can see this in the supermarkets with fresh fruit and veg. Strawberries are at their most delicious and scented in the midst of June and pick your own season – it stands to reason this rationale works also for cut flowers.
British grown, seasonal cut flowers are fresher and often have better scent, so thankfully the UK grown cut flower industry is on the increase. This is great news for the environment too. The 'Buy British - Buy Local' campaign is hugely important with consumers now, so perhaps there is a grower local to you already? But we do need to re-educate ourselves on our expectations on what flowers we really want and when.
This year I have been planning to practice what I preach and try using local growers with imported stems to supplement designs. Covid-19 has only pressed the pause button on this and I am really excited to be working with some local growers soon. Visit 'flowersfromthefarm.co.uk' for a grower near you.
Over the past 12 months I have also started a home project of a cutting patch. It's on a very modest scale but it has been much more successful than I had first expected so this there's more going in this year. These are some of my favourites from last year, including Cafe Au Lait Dahlias, the flower of my dreams! Seeds have already been sown and showing exciting signs of growth. Those tiny green shoots don't fail to make me smile – a welcome sign of better times to come.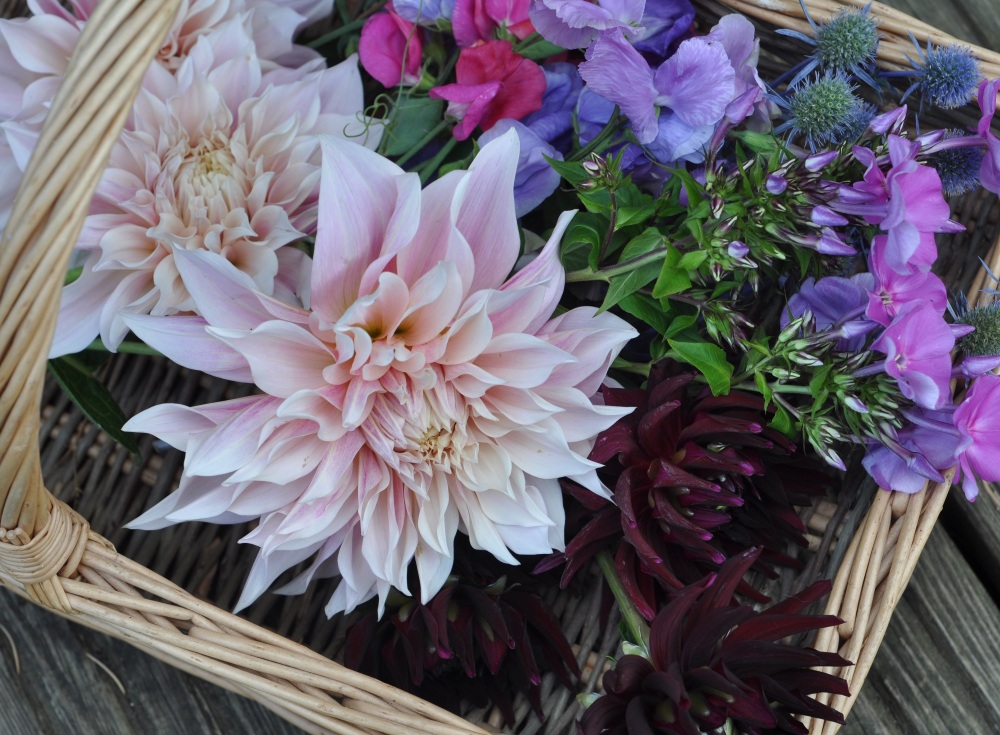 Please visit my blog again – I'll be sharing flower varieties for each season as well as suitable colour pallettes over the coming months… watch this space or get in touch.